Sorry I have been away for a few weeks to attend other businesses. I was also working on the future eBook which is not as easy as writing for a blog. There must balanced information, not too much to avoid overwhelm reader but enough anyway to kick curiosity and critical thinking! So should I write about inverted Laplace transform? Well answer is yes, but I need to make it simple for casual reader out there!
For this return I am going to talk only about Bitcoin, which has gone again over the roof. You may see everywhere Bitcoin is a gigantic bubble that will explode maybe tomorrow morning, leaving all of those with fortunes in Bitcoins … broke! Nothing can be further from truth, because as long as some countries tolerate Bitcoin as a concurrent to local currency somehow, those who forbid are also getting late on its technology and all the improvements it can bring in terms of security, cryptography, …
The 'problem' with Bitcoin lays probably with the price paid to miners which is halved every 4 years, and so Bitcoin price has to go up or the mining can not be profitable over the long term. That being said, price has only one direction over the long term: it is UP! Until it is pushed out forcefully by a better bitcoin….
Let's look at the chart: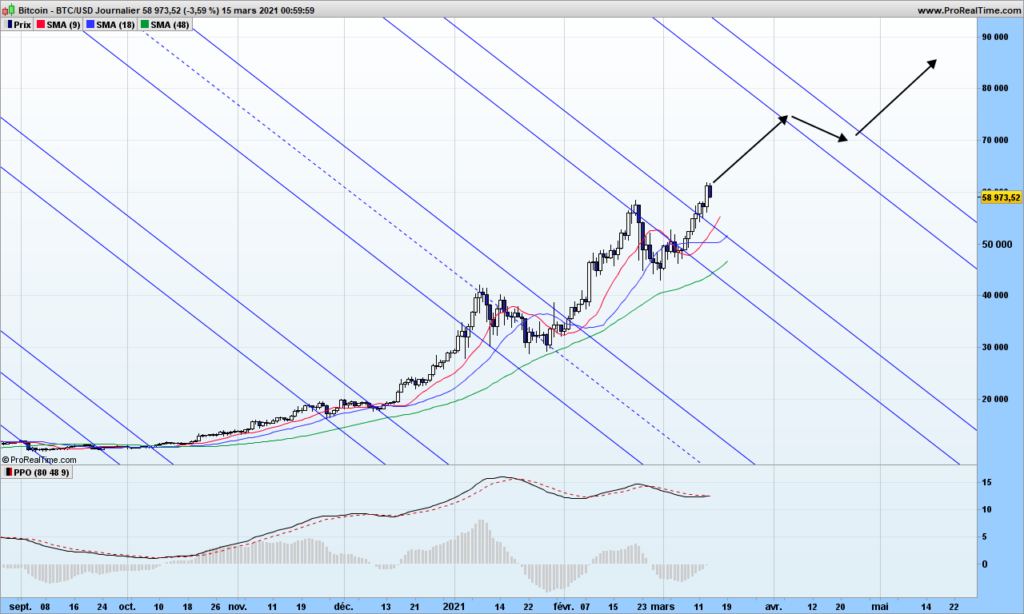 I have drawn the action-reaction lines, which is the only way to predict when and where the next top might take place. There is hidden symmetry in the market which you can see clearly, Bitcoin has been stopped by down slopping reaction line then wen through when many weak hands thought Bitcoin was going down back to 10k$.
There is almost zero resistance now until beginning of April. I expect the trend will be a bit slower. From exponential, coming back to parabolic more sustainable move is all we want!
That's it! From now on, I will post some trading opportunities on some selected Nasdaq stocks with action-reactions line for your reading pleasure.
Until next time, trade safely!