You probably have read in many places that volatility is a monster that will eat your portfolio.
Let's start from zero: volatility over a year is how much price have in whatever direction.
Now look at this one: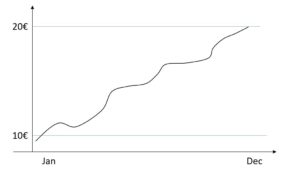 Price have risen from 10€ to 20€ in an  almost straight line. So volatility is roughly 100% and you don't want to be in? No kidding!
Next time we will see how to observe volatility and how it evolves to a trend.
Trade safely