As written a few times, social network are stealing your time, your data, your ideas, and everything else they can. As of now, they tell who can tweet or put message on Facebook, they can remove any content they don't like, … No surprise either when some say "Bitcoin is a worldwide scam". It may be somehow, Bitcoin have no greater reality than fiat moneys, as their names indicate, but for traders in the short term, Bitcoin exists and the risk is just a bit bigger because of volatility. So it is worth having a strategy to enter at low volatility levels and decrease exposure when volatility is too high to your taste. If you don't have or don't want to spend too much time with custom indicators, just draw the infamous Bollinger bands and a long term MACD (parameter 48 and 64 for instance) on any financial web site as below: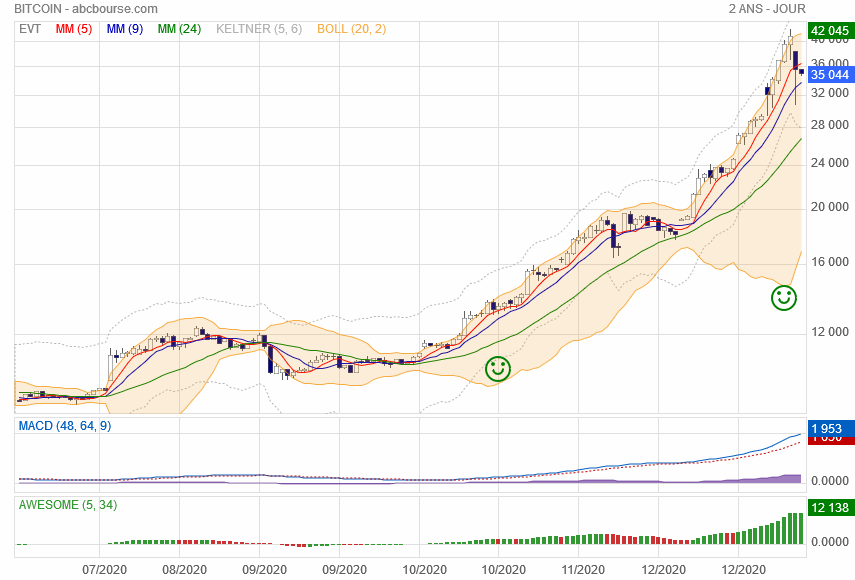 MACD is positive, so the long term trend is up. No further question to be asked.
You can also see areas where those bands are getting closer to each other. Change the Bollinger moving average to 5 or 7 days if not visible enough.
Then if you compare where we are compared to previous bull run, as indicated with green smileys, we are barely at the beginning of 'second phase' of Bollinger bands, indicating the strong bull market will continue, albeit most likely on a quieter pace.
To get a peace of mind, consider the difference between last price and green moving average. That is your risk! If too far away (consider how many $ or € you could loose), just decrease the position size, thereby also securing some of the profits!
That's it! Until next time, trade safely!