In 2012, Facebook IPO price was about 40$. Just 3 months later, it was trading at 18$ but if you bought at that time, then you would be enjoying today about 1000% performance just by holding the stock and not caring what might happen on the stock market. That was a bet at the time, that I have not taken!
I personally hate Facebook because it prevents its users from thinking by themselves, promoting subliminally some herd thinking that is supposed to facilitate your life. And people are so gullible they are buying the invisible marketing message.
Imagine I want to buy this electric car from eMoon Motors. I look on Facebook if any of my friends, real or virtual, have bought any and what they think about it. I have found 5, 1 is very angry because his wife dislikes it very much, 3 are complaining and 1 has no opinion. What happens is that people who are not happy are writing it to let out their bad energy, and others that had a little problem are going to confirm, hugely amplifying that scratch on the door made by a dog passing by. People who are happy don't take the time to comment. What can you deduce then? Well, nothing!
Who has become rich with Facebook? The founders of course, and stock owners. Any users? No! All users have given for free all their data to a monster that is selling this (free!) data to advertisers – wonderful business case, thereby also preventing serious newspapers with real content from getting advertisement, among other consequences. World would probably be better off without Facebook, users already have many alternatives but ignore them out of convenience or laziness. Of course, if your (potential) customers are all using Facebook, you have to use it!.
Facebook stock is a stock real hard to play, because it tends to gap every once in a while, causing automatic trading algorithms to go nauseous. Don't let that prevent you from making a trade or two when visibility is fine.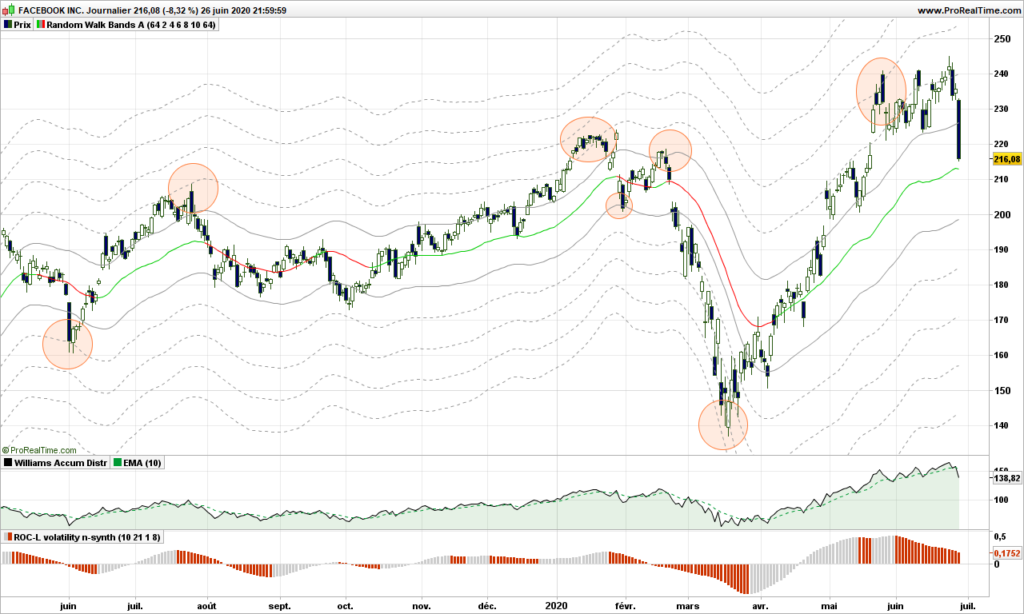 The stock follows a random path, too flat most of the time to make substantial gains, but as you can see, the price wanders along the warning lines, like invisible resistances, then suddenly end of last week, a black Friday!
What is happening? Tier-1 corporations propose to boycott FB through November election if Zuckerberg does not take action to control hate speech, that is everywhere on this media! Companies include Unilever, Verizon, Honda, The North Face, Ben & Jerry's, Patagonia, Mozilla, Birchbox Dashlane, TalkSpace, LendingClub, and Coca-Cola , just to quote a few. See how good I am also at advertising, but I do it very smoothly, not disturbing the casual reader!
What to do now? At very least, as a trader, you should be out and you can come back later. No, stay with me, I am not finished yet! The indicators at the bottom are the Accumulation/Distribution (A/D) and one derivative. The money during last 2 months was still going in, but not so fast (divergence), and now A/D has also crossed its average indicating money is flowing out of FB. The random walk path is still green (going up), so I do not advice a short position in this time frame. The objective for this down move is 186$ but could be stopped before. Don't think that Zuckerberg is going to sit around seeing the money vanishing , sure we are going to see some Facebook message stating that situation is under control, and he will invite his announcers to a party (not a virtual one) to celebrate this. If it fails, prepare for a plunge to 130$! Have fun!
That's it. Until next time, trade safely!